Disclosure: This post may contain affiliate links, meaning we get a commission if you decide to make a purchase through our links, at no cost to you. Please read our disclosure for more info.
After 12 years and 4 World Series titles, Joe Torre is stepping down as the manager of the New York Yankees. Yankee management had offered Torre a 1 year contract for 2008 with a base of $5 million per year, including incentives to increase total payouts up to $8 million. This came after Yankee officials had met for several days to determine the course of action to take with Torre after an up and down year with the Yankees.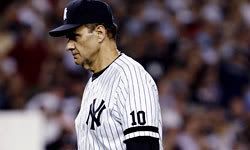 This contract offer seems to be a slap in the face to Torre. The Yankees were essentially giving Torre a pay cut from his previous 3 year, $19.2 million contract expiring after the 2007 season. The Yankees positioned themselves to deflect criticism by offering this low contract and state it's Torre not wanting to come back to the team.
It's a sad day for Yankees and for baseball. Torre is a stand-up guy and 2007 may have been his best managing feat in his career. The Yankees were all but written off from having a winning season in May and June, let alone even making the playoffs. With a suspect pitching staff suffering from injuries, Torre was able to get the team to play good ball and earn the wildcard.
It'll be interesting to see who the Yankees tab as their next manager. The play here is either Don Mattingly or Tony Larussa.