Disclosure: This post may contain affiliate links, meaning we get a commission if you decide to make a purchase through our links, at no cost to you. Please read our disclosure for more info.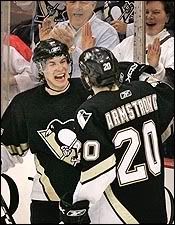 Is the Kid the real deal or what?  In just his 2nd year, Sydney Crosby is leading the NHL in total points and is tops on the Penguins in total goals.  Now that Pittsburgh is keeping the team, this kid can be the focal point of the league (just don't join Ben Roethlesburger's  motorcycle club anytime soon).
Check out Shop.NHL.com for all the gear, including the new Long Sleeve Name & Number T-Shirt, personalized for your favorite player.  Only $22.99!